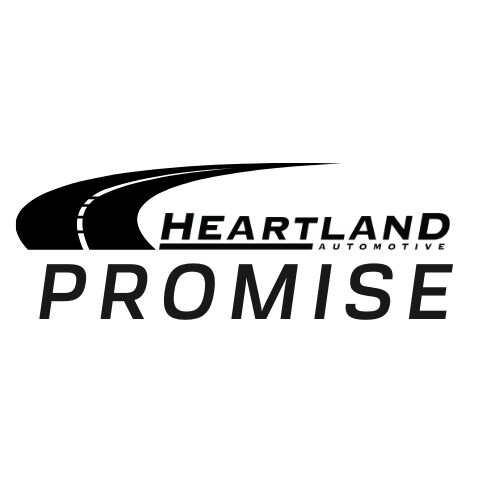 INTRODUCING THE HEARTLAND PROMISE!
At all of the dealerships in the Heartland Automotive Group family, we know that you have a lot of choices on where to go for your next new and used vehicle. But we're committed to being more than just another dealership, and that means going the extra mile for our customers on every deal, every time. 
That commitment to being the best is the reason behind why Heartland Automotive Group is introducing The Heartland Promise. 
What is The Heartland Promise? Simply put, it's the best group of after-the-sale buyer protections and customer service features you'll find at any dealership, anywhere in the state. There's three parts to The Heartland Promise, and each speaks to our commitment to being the best when it comes to customer service. Together, they make our great dealerships even better, more service-oriented, and more dedicated than ever to giving you the best value for your money. 
1) 60-Day Power Train Warranty On All Pre-Owned Vehicles: Heartland is committed to selling only affordable, reliable pre-owned vehicles you can count on day in and day out. We know that when you buy a pre-owned vehicle from us, you're putting a lot of faith in the fact that we would never sell you a lemon that's going to quit on you when you need it most. That's why the next part of The Heartland Promise is a FREE 60-day power train warranty on all pre-owned vehicles we sell with less than 200,000 miles. If you buy a pre-owned truck, SUV or car from Heartland and it doesn't run to your satisfaction within the first 60 days of ownership, bring it back and we'll fix it, FREE. No gimmicks, no fine print tricks. Just 60 full days to get to know your vehicle without the stress of worrying whether it will be reliable enough for your needs. Heartland knows everybody deserves a vehicle they can count on, and we're confident enough in the quality of our used vehicle selection to put our money where our mouth is.  
2) Free Delivery, Anywhere In Arkansas: In today's fast-paced world, more and more buyers are turning to the no-hassle convenience of buying vehicles through the internet. Heartland sells plenty of rare, performance and special edition vehicles, and we're committed to letting our customers buy their vehicle, their way, through a process that's as easy and trouble-free as possible. That's why the next part of The Heartland Promise is FREE DELIVERY of every vehicle on our lot, anywhere in Arkansas! Buy a new Silverado, Camaro, GMC Sierra, F-150, Ram, Challenger, Wrangler, or even a reliable pre-owned car from our vast selection of used vehicles, and Heartland will deliver that vehicle straight to your door, anywhere in the state! Blytheville to Benton, Lonoke to Little Rock, Monticello to Mena, if you buy from Heartland, just tell us where you want it and we'll bring it right to you, absolutely free. It's one more way Heartland is changing the car business, one honest deal at a time. 
3) In-House Personalization and Customization: At Heartland, we're committed to treating every customer who walks through our door as the most important customer we'll see all day. That's because you're more than just a number on a balance sheet! You are a unique individual, and you deserve to be treated like one. That's why the last part of The Heartland Promise is the customization of new vehicles! Why settle for the same Silverado, Ram or F-150, everyone else has? Through our unique partnerships with top-quality local aftermarket shops, if you can dream it, Heartland can do it! Want a set of hot aftermarket wheels and tires to truly make your vehicle reflect your personality? How about a heavy-duty winch bumper and light bar to really set your new 4x4 apart from the pack? From custom paint to full-vehicle wraps, aftermarket parts to performance intakes and exhaust kits, we can build your new vehicle your way, and we can even figure the cost of modifications into your monthly payment! Don't settle for ordinary! Come to Heartland and let us help you build the vehicle that's as interesting as you are! 
The friendly, hometown dealerships in the Heartland Automotive Group may not be the biggest, but we are committed to being the best. The Heartland Promise is the core of our commitment to that goal of treating every customer the way they deserve to be treated. That's because we don't want to just sell cars. We want to make customers for life! 
Stop in today at Heartland Chevrolet Buick GMC of England, Heartland Ford of Heber Springs or Heartland CDJR of Wynne and see why we always say: it's different in the Heartland. We promise you'll be glad you did.